Colonial Plaster can repair or restore your plaster moldings and medallions that have been damaged by water, cracks from house settlement, or other causes. Many times we can save our customers significant amounts of money by repairing damaged plaster instead of replacing it.
If replacement is necessary, our team of experts can make molds and castings to fabricate replacement moldings either on- or off site. Need to repair a plaster cornice or plaster columns? No problem. Our team has over 60 years of combined experience and is capable of repairing or restoring nearly any type of plaster molding or medallion.
We believe that working with plaster is a time-honored skill – one that requires impeccable attention to detail and craftsmanship. Our team is comfortable working with traditional lime plaster as well as gypsum plaster. Painting services are available upon request.
We Specialize in Historical Properties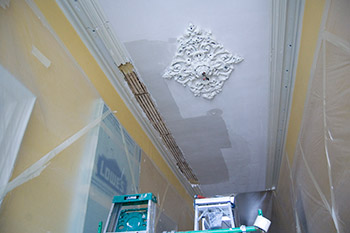 Working on historical properties is one of our primary passions. After all, historical properties can only stay true to their original appearance with the qualities of plaster. We've repaired plaster moldings and medallions at numerous well known historical places like St. Peters Church, Bruton Parrish Church, Edge Hill Academy, La Villa Romaine Bed and Breakfast, and at private residences throughout Virginia.
Browse our gallery with photos of plaster molding restoration work we've done at historical properties in Virginia.
Job #1: Protecting Your Home
In addition to our expertise in repairing plaster moldings and medallions, we also excel at protecting your home. Our team is specifically trained to protect your home or business from dust while they work by sealing off their work area with floor-to-ceiling dust curtains and covering any nearby furniture in protective plastic. Your home is your most valuable asset and we always make sure we protect it while we work.
We Provide Free Inspections
Colonial Plaster Restoration offers free plaster inspections to give you an accurate and unbiased report on the health of your plaster. We can evaluate moisture levels, strength, and the life span of your plaster. Contact us today to receive a free quote for repairing your historical plaster.